Get Corporate Relocation with a Top-Rated Moving Company in Toronto, Ontario
Have you started planning a business move? Did you just get the news your company needs to transfer? Still looking for a moving company in Toronto, Ontario to oversee your corporate relocation? We can help you at Firemen Movers. Call us today to find out more about how we can simplify your complex business transfer. Whether you're moving within the city, to another province or clear across Canada, our skilled relocation team can get you there safely, smoothly.
A Cost-Effective Way to Move your Business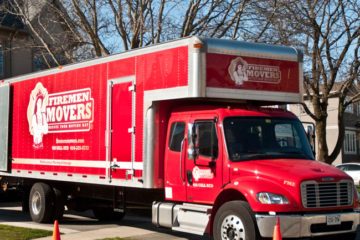 The truth is your corporate relocation needs to be handled by experts in the industry to minimize downtime and set-up issues. At Firemen Movers, our main priority is to relocate your company quickly, safely to eliminate any potential problems, getting you moved in as soon as possible so you can get back to business fast. Our professionals have relocated countless companies and their employees, ensuring a smooth, seamless move every time. We're in the business of getting your business to its new location so it can go back to running without a glitch. Let us help you out with select moving services or our all-inclusive package that takes care of everything, from start to finish. Packing, loading, assembly, storage – you name it, and we'll make sure you get exactly what your company needs.
Say No to Stress and Yes to All-Inclusive Moving
Wouldn't you rather be enjoying the local attractions instead of managing your corporate relocation? Of course, you would! So, rather than organizing your staff, you can go out and enjoy the Gardiner Museum, Woodbine Beach or Harbourfront Centre. Instead of stressing about shipping, you can relax at the Allan Gardens and check out Ripley's Aquarium of Canada. Call us today at Firemen Movers for a moving company in Toronto, Ontario that's truly committed to your corporate relocation.