As well-known professionals in the industry in Canada, our team at Firemen Movers have overseen countless local, interprovincial, and overseas relocations. No matter where you're transferring to, rest assured that your household is in exceptional hands with our experts. From packing your belongings safely to helping you set-up everything in your new home, our knowledgeable pros take pride in assisting families from near and far. Once you hire our crew, you'll quickly realize they're efficient, yet prioritize the security of your belongings. And, as such, your household possessions will arrive undamaged. When you need GTA movers who really care about their clients, supporting them by any means possible, you need us – Firemen Movers.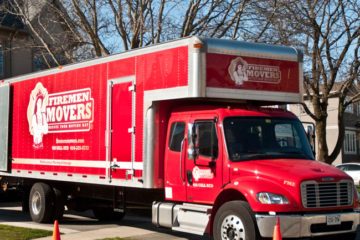 GTA Movers That Provide Professional Moving Services
Wish there was an easy way to ensure your local move was simple and stress-free? Well, there is, and that's by hiring our top-rated GTA movers! Canadian families often turn to us to help them with the overwhelming task of transferring their home. In turn, we simplify their relocation with various services, such as:
24/7 Customer Support by our Friendly Relocation Agents
Moving Logistics Planning
Packaging Support, including crating for fragile items and artwork
Detailed Labels, to ensure containers clearly indicate their items
Loading/Unloading
Local, Interprovince, or International Transfers
Disassembly/Assembly
On-Site Set-up Assistance, according to client directions
Warehousing and Storage Solutions
Contact Firemen Movers Today For a Free Moving Estimate!
At Firemen Movers, our partnership with North American Van Lines grants us access to a vast assortment of worldwide resources. Because of this affiliation, our GTA movers can ship your belongings anywhere in the globe without issue. Our continuous end-to-end transport logistics ensure your household items always arrive on time.
Contact us today at Firemen Movers if you want friendly experts to help you get to where you need to go.