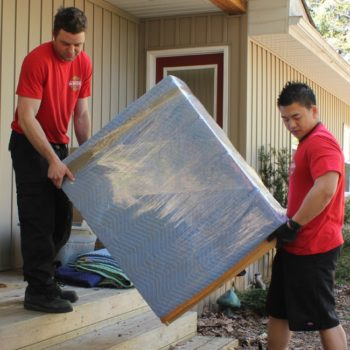 Some furniture might be easy to carry on your own, but couches, mattresses, bed frames, bookshelves, TV stands, dining tables and chairs, and other furniture may be too heavy, large or valuable to risk moving on your own. Instead of struggling to move these items, furniture moving services in Toronto can help. Whether you need items moves to your new home or need junk removal services to downsize, Firemen Movers' furniture movers are ready and equipped to handle the job.
Need Furniture Movers in Toronto, ON? Call Firemen Movers!
Arranging Furniture
Once you're in your new home, you might need assistance in arranging your furniture, so your spaces look just right. Moving a queen-sized bed upstairs to your bedroom, or bringing a grand piano through the front doors might seem impossible on your own, but we can help you get the job done in a snap.
Packing and Wrapping
The last thing you want when you move into your new house is to realize your lamp has been cracked or that your couch has a big tear at the back. Properly packing and wrapping your furniture is crucial to protecting your items and safely getting them from point A to point B. With our expertise, assistance, and equipment, we can carefully wrap and pack your furniture to avoid your valuables from getting damaged.
Furniture Moving
Local furniture delivery is a breeze when you have one of the best moving companies helping you. Our movers and packers will load our vehicles with your items and carefully ensure nothing gets jostled around while our drivers deliver your furniture. We know how to pile and pack items in our trucks to ensure a safe move without items sliding around inside.
Furniture Storage
Whether you're downsizing or saving items to pass along to your kids or grandkids, finding a safe place to store your furniture is quick and easy with our movers. Our companies offer storage solutions for furniture and other household items, so you can save space in your new home.
Furniture Junk Removal
Is your couch old and smelly? Does your dining table have scratches and dents from over the years? If you're planning on buying new furniture for your new home but don't know what to do with your old, used furniture, we can help. If your items are no good for donating, we can take them off our hands and carefully put them where they can be recycled or safely discarded.
Firemen Movers' Services Can Help You
Firemen Movers can help you if you need help wrapping, packing, moving, arranging, or removing your furniture. We understand the process can be stressful, and that's why we are available to work with you personally to make decisions about your items and your move. We are a GTA-based moving company that has years of experience in moving from start to finish. Contact us directly for an estimate, book your moving date with us, receive an order of confirmation from our team via e-mail, and enjoy a successful moving day as we handle your move for you!