At Firemen Movers, we know all too well how difficult it can be to move to a new province. However, when you take the time to truly plan and prepare for the relocation in advance, it can not only ensure things run smoothly but also relive a lot of the pressure you're feeling. Our professional team would like to help you out with your big move by highlighting a few considerations you should keep in mind.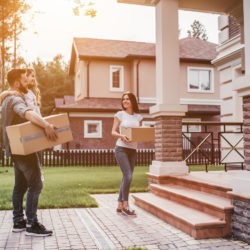 3 Things to Consider When Moving to a Different Province
Complete Your Paperwork
Before the big day, it is of utmost importance to complete all the change of address and residency forms well ahead of time. Notify the following organizations once you have your new address:
Canada Post
Canada Revenue Agency
Elections Canada (to ensure you're still properly registered to vote)
Ministry of Health
Ministry of Transportation (to update your driver's license, license plates, and vehicle registration)
Service Canada
Of course, it may be hard to remember every single organization to contact. As such, creating a checklist and sticking to it will save you tons of time, aggravation, and even costs down the road.
Register for Health Care Coverage
Each province has its own type of healthcare. So, when you move to a new one, figuring out what to do can be confusing. Usually, depending on how temporary or permanent your relocation is, things can get even more confusing. Ultimately, you'll need to register for coverage once you arrive at your destination. Though, ideally, you should contact the provincial health institution that oversees health care before your move. Make sure you're not left without any health coverage at all by opting for private insurance, even if it's temporary until benefits kick in.
Get Peace-of-Mind with Professionals
As you've likely imagined, the most intense part of a transfer is physical labor. While you want to treat your belongings with the utmost care, whether they're valuable or otherwise, as the move progresses things can get out of hand. Luckily, at Firemen Movers, our industry specialists can take care of every detail of your relocation, from beginning to end, with services like:
Appliance Servicing
Customs and document assistance
Fine Arts Services
Packing
Pet Relocation
Vehicle Transportation
When you hire a professional team, you gain skilled, qualified movers that greatly reduce your stress. While they oversee the physical aspect of your transfer, you can focus on starting your next adventure and getting settled in your new home.
We can help you with your big day, starting with a free, no-hassle quote. Call us today at Firemen Movers to get started!