There's no doubt about it, one of life's most exciting moments for any family is when they buy their first house. But, while there's a lot of excitement surrounding this situation, there's also a lot of things to prepare and do. From planning the upcoming move to hiring professional furniture movers in Toronto to organizing the various renovation projects for the new place, you'll wish you had a checklist to help you along the way.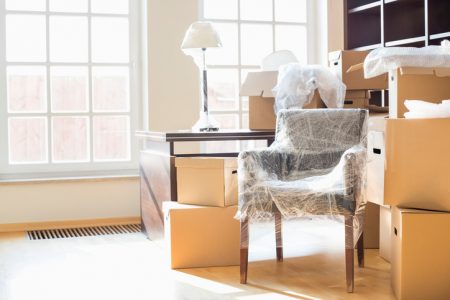 Moving from an Apartment to a House? Here's a Concise Checklist From Our Furniture Movers in Toronto, ON!
Well, luckily, you will with this concise – yet incredibly invaluable – checklist, brought to you by our expert team at Firemen Movers.
Figure out what renovations need to be done.
First things first, figure out what needs to be fixed in your new home before your family moves in. Projects, like painting the walls, redoing the floors, and updating the bathroom, are always best done while the house is empty before your furniture movers in Toronto bring in your belongings.
Change the locks and make spare keys.
One thing that will make your family feel a lot safer is changing the locks. It's also relatively inexpensive to do, plus you never know who has a copy of the original key anyway. Once the locks are changed, have a few extra keys cut so you have spares. You can give one to a friend or family member to hold onto in case you're ever locked out.
Get to know the main water valve (and how to shut it off).
It's essential to know where your main water valve is located– and definitely not something you want to figure out on your own in the middle of a flood. Ask the previous homeowner where it's located, as well as the ins and outs of the other need-to-know features of your new home.
Set up an emergency fund.
When it comes down to it, homeownership comes with its fair share of expenses – many of while can be completely unexpected. Avoid having to borrow money (unless it's a huge expense that requires it) by opening a savings account and designating it the emergency fund. That way when you need a new appliance or the garage door opener bit the dust, you've got it covered.
Get referrals for repair or reno experts.
Ideally, it's always a good idea to make a list of experts to call in case you need their help with repairs or an upcoming renovation project. Ask family, friends, and neighbors for referrals since their positive experience likely ensures you'll have one too. Jot down essential services like appliance repair, electricians, and plumbers, for instance.
Keep a record of upgrades.
At some point in time, you may consider selling your lovely home. Therefore, keep a record of all upgrades, as this will add more value to the house and increase its property value (and get you more money). Also, in case there's a recall on an appliance or another item, the paperwork or receipts in your files will be helpful in getting the issue fixed.