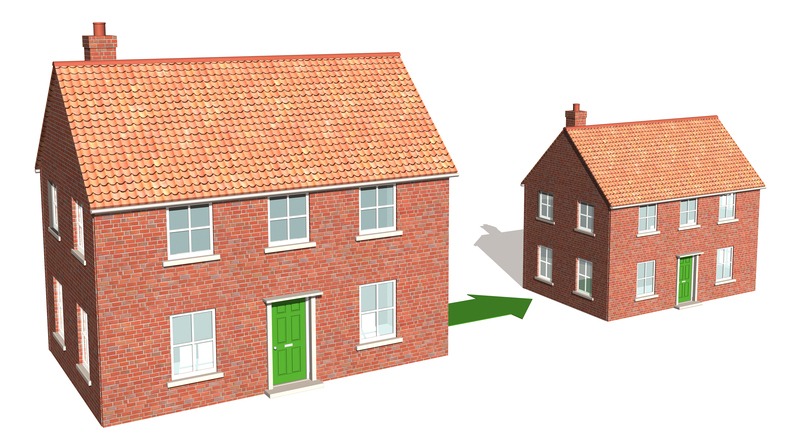 iStock.com/philhol
5 Tips to Help You Downsize to a Smaller Home
Making the decision to downsize your home is probably the easiest thing you'll have to do throughout the entire process. Once you've made the choice to move to a more modest home, you'll have your work set out for you—from seeking out Toronto junk removal services, hiring a professional residential moving company, and finding temporary storage solutions and moving insurance for your valuables, you'll have more than a few moving tips and checklists to keep track of. If you're not sure where to begin when it comes to your checklist for downsizing your home, we've put together some tips to help you make downsizing an effortless process.
Planning: Get Ready to Downsize
Firstly, you'll need to have a plan before you start working your way through your downsizing checklist. Start by taking an inventory of your things, and then assess how many of those items you actually use and which are necessities. Starting this process as early as possible will make the weeks and days leading up to your move go more smoothly, and hopefully a little less stressful. Once you've successfully come up with a plan of attack and begin sorting your items, you`ll find that your move will progress quickly.
Junk Removal: Get Rid of All Unwanted Items
A good rule of thumb is that if you haven't used it in the past six months, you don't really need it. Aside from jewellery and personal mementos, you should use this rule as a guide when decluttering your home. You likely won't have as much storage in your new home, and the last thing you want to do is immediately fill it with clutter when you move in. Most professional residential movers and residential moving services in Toronto offer junk removal services—take advantage of their services, and hire a company that can help you move as well as remove junk from your property.
Rent a Temporary Storage Space
You'll likely need to use residential storage solutions in your area to keep some of your belongings safe while you figure out the layout and furniture organization in your new home. Residential moving and storage services can offer you a secure, temperature-controlled space to keep items while you move—some professional moving and storage companies offer long-term options as well, if you're looking for a more permanent home for items you don't have space for in your home.
Insure Your Valuables
Before you begin your relocation, be sure to insure your valuable items. This checkpoint is extremely important, regardless of whether you're upsizing or downsizing. Having moving insurance, especially for high-value items will give you peace of mind and ensure that you have something to fall back on should something go wrong during your move.
Get Help from Professional Residential Movers Near You
Although following this checklist will make your downsize easy, hiring Firemen Movers, one of the leading residential movers Toronto, will make it even easier. We can offer full-service moving, from carefully packing your precious items to removing the ones you don't want to take with you. We also have a storage facility, making us a one-stop shop for all of your residential moving services. Contact us today to find out about how we can make your move effortless.