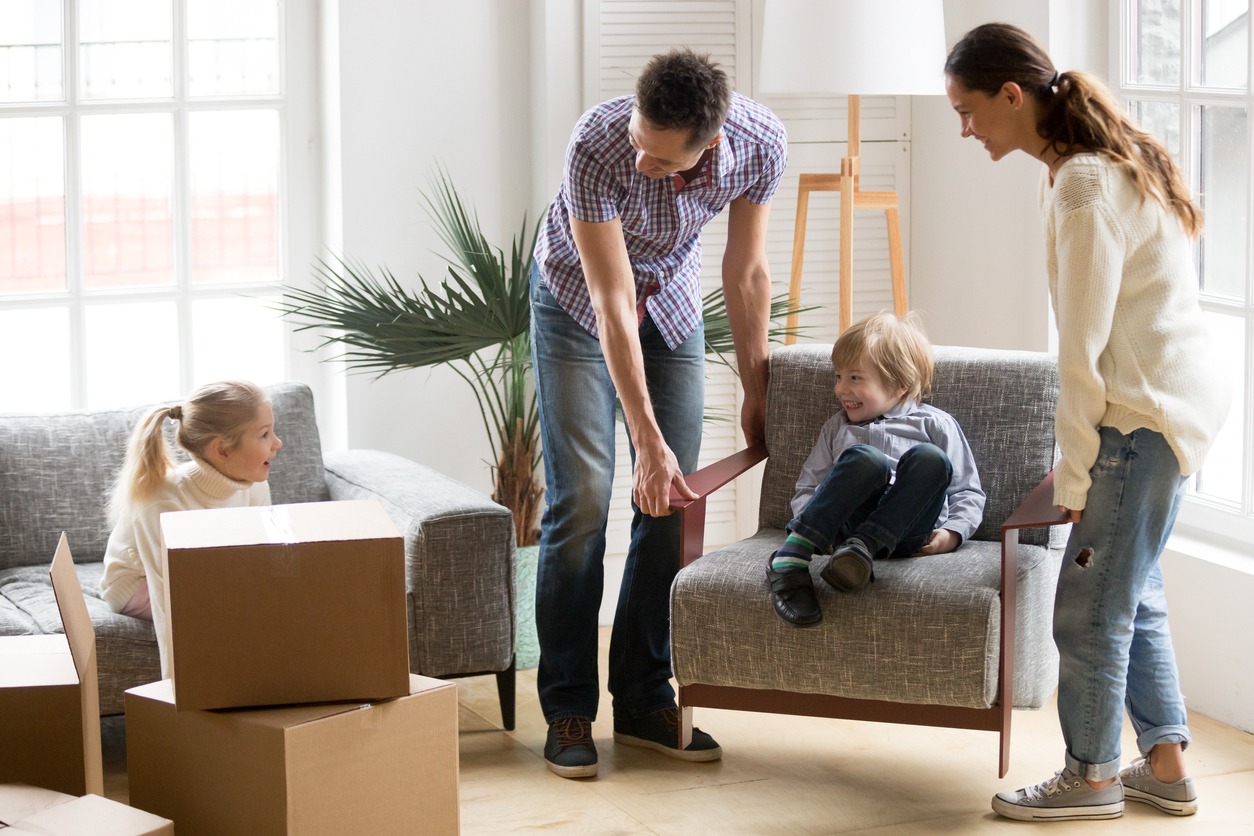 iStock.com/fizkes
Ideas to Make Moving with Kids Fun
Moving to a new home can be stressful, especially if you have young children. Whether you need more space for your growing family, moved for work, or simply want a better community to help your family thrive, the change can be a challenge to get accustomed to. To make the move as smooth as possible, it helps to get your children excited and involved in the process. Before you contact some house movers in Toronto, here are some ideas to make moving with kids fun.
Before You Move
Discuss the Moving Plan Together
Letting your children know the plan for the move will help them feel more engaged in the process. Go through all the steps on your to-do list, from cleaning and organizing, to unpacking and setting up your new home. Help them figure out which items they want to take with them, throw away, or give to friends or charity.
Let Them Choose What to Keep, Dump, or Donate
Allowing your children to make some decisions in the moving process will help them feel more positive about the change. Leaving the space in which they have lived comfortably for years can make kids feel sad and confused, so ask them to sort the items in their room. Ask them to choose which stuffed animals, puzzles, games, books, and clothes they want to keep, donate, or throw away. It also works in your favour, as your kids will stay occupied during the days of moving preparation.
Decorate Moving Boxes
If your kids have done a great job at packing their non-fragile items in moving boxes, encourage them to have fun by decorating their boxes. Have them label the boxes on each side to help your residential movers in Toronto know what the contents are. Give them markers and stickers to personalize each of their boxes, and once it's time to unpack, they will remember which boxes belong to them.
Plan New Room
Another way to get your kids excited about the move is to have them plan their new room. Ask them to draw a picture of what they would like their room to look like, and where they want their furniture and toys to go. If they've visited the new home before you've moved, it will be even easier for them to imagine.
Say Goodbye to the Old Home
Getting closure is important, even for your kids, so encourage them to say goodbye one last time to their old home. Make it fun by letting them ride their scooters around the empty rooms, or have a final game of hide and seek before you leave.
During the Move
Road Music
Depending on how far away you plan to move, you may need to make the trip exciting. Make up a song about moving with your kids—ask them to make up something simple and silly that makes the whole family laugh. Or, make sure you bring their favourite music along, so everyone has feel-good music to enjoy.
Games while Travelling
Simple family games can make the drive feel a lot shorter. I spy, 20 Questions, and I'm Going on a Picnic are just a few ideas that can help your family pass the time. For kids sitting together in the back, games like Hangman, Tic-Tac-Toe, and the License Plate Game can be easily played together with a pen and a notebook.
After a Move
Make the First Night Special
Moving into a new place with piles of boxes, no seating, and a general disorganized area can make it difficult for it to feel like home. Try to make the first night special for you and your kids by camping out on the living room floor and ordering take out. Tell scary stories and eat snacks until everyone is tuckered out.
Unpacking Fun
Welcome to your new home! Get your kids excited by making unpacking fun. After the furniture is set up in each room, as your kids to spend some time filling their dresser and closet with their clothes and items. Order a pizza during break time or treat them to ice cream and a movie once everything is done. Give them something to look forward to!
Let them Decorate Their Own Rooms
If possible, let your kids choose the colour for their bedroom walls, or let them choose the theme for their room. Choosing how their new space looks will help them feel more comfortable and happier, although they may still be facing other challenges like switching schools. Having a place that feels truly their own will help bring ease and comfort to all the other areas of moving.
Introduce Your Children to the Neighbourhood Kids
Take some time during the first week of the move to introduce your kids to your neighbours' kids. Since your kids will be growing up in this area, it's a good idea to help them get involved in their community, especially with those they will see every day. Encourage them to invite new friends from school over to your home, so they can build new memories to treasure.
Firemen Movers' Services Can Help You Move
Are you looking for the best Toronto movers to help your family get all your possessions to your new home? Do you want to work with a family-oriented team that understands your needs and concerns? Since moving involves the whole family, we hope these tips can help your kids feel excited and positive about their move. If you require additional services, Firemen Movers can help. We provide homeowners in the GTA with fast, efficient, stress-free packing services in Toronto, transportation, moving supplies, junk removal and more. We think about the small details and are fully available to support you. Contact us today for more information or to get a quote on our services.