Local Movers in Toronto, ON Share Tips For Greener Moves
Local Movers in Toronto, ON Share Tips For Greener Moves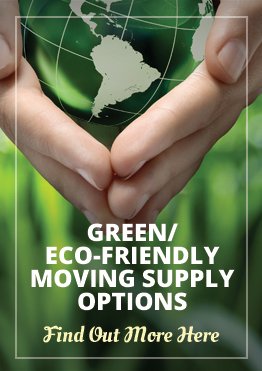 Is sustainability an important issue in your family? If so, perhaps you're thinking about how your upcoming move can be greener. Well, the great things are that, nowadays, you certainly have more eco-friendly options. At Firemen Movers, our local movers in Toronto place great importance on this very issue. We'd be more than happy to discuss with you the many ways we approach household transfers in an eco-friendlier manner. As such, we've come up with the following advice to make your future relocation more environmentally mindful.
Go with reusable bins instead of boxes
Instead of purchasing a large number of cardboard boxes for your move, you may want to consider getting reusable plastic storage bins. Typically, cardboard boxes are thrown out or recycled after a move because they're usually quite beat-up. If not, they're often flattened and stored in the garage for years to come, possibly molding and becoming unusable. Bins, however, can be reused over and over again, offering a sturdier way to transport your belongings and a means to store them as well.
Recycle or reuse boxes
At times, plastic bins are simply not a viable option, be it because they're too expensive or you just don't want a bunch of them once the move is over. In such case, reuse them, donate them, or recycle them afterward. If you're not sure which facilities will take them for recycling, just ask our local movers in Toronto and they'll point you in the right direction.
Purge your home
Before you start packing up your belongings, take the time to go through everything to declutter and purge what you don't need. As you can imagine, doing so will give you fewer things to pack – which means you'll have less to move. In turn, less moving means a greener relocation.
Clean with green supplies
Whether you clean your new home before you move in or after the big day has come and gone, when doing so think about opting for greener, more eco-conscious cleaning supplies. Not only will they be better for the environment, but they'll be a healthier choice for you too!
Contact us today at Firemen Movers for local movers in Toronto that truly care about you and the environment.