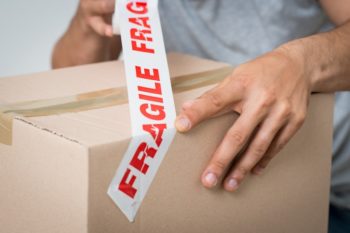 How to Protect the 5 Most-Commonly Damaged Items during a Move
You have a lot to worry about when preparing for a move, and the safety of some of your most precious items is probably one of them. There are certain items that are more fragile than others that are more vulnerable to getting damaged, which can be a huge headache and expense for you—and the last thing you want is to have to worry about replacing your belongings as soon as you move. Check out these moving tips we've put together on how to protect your fragile items.
Items Most at Risk while Moving
Glassware
Glassware and your China reserved for special occasions are at risk of breaking or chipping during your relocation, especially because of their fragile nature. Packing these fragile items for moving can be difficult if you're unaware of the best way to keep them safe. The key to moving these fragile items successfully is to use boxes that are specifically designed for transporting them—your best bet is to use partition boxes with dividers so that they don't bang and rub against each other during transport. Take the time to add a little cushion and protection when moving glassware to ensure they reach their destination in one piece.
Electronic Items
Moving electronics is another challenge you'll face—not only can these devices be large, but they're also extremely delicate. Though it's easy to protect the outer shells of our electronic devices, it's not always as easy to ensure that their inner workings remain in tact. Our advice is to go overboard and pad them with towels, blankets, and bubble wrap to protect them from the inevitable bumpy ride to and trip into your new home. If you're hesitant about moving your electronic items safely, the help of professional movers could come in handy.
Home Decor
When moving certain home décor pieces like artwork, ornaments, and lamps, there are techniques you can use to be as safe as possible. For example, try wrapping your artwork in paper to prevent scratches if you can't find a box to fit it in. When transporting lamps, disassemble them and ship the pieces separately.
Plants
You can't just abandon your house plants after all the care and effort you've put in, into growing them. Stop watering them a few days before moving so that they're lighter and a little less messy to transport. If you've got boxes to fit them in, make sure there are holes so that they can still get some air. You can also use ties and bags to separate them and protect loose branches when moving your plants.
Furniture
Moving furniture in Toronto is a hassle, especially if you're moving to or from a cramped apartment in the city. Table legs, corners, and sofa arms are all prone to getting bumped when going from point A to point B. Taking furniture apart if possible and wrapping it with bubble wrap can help. This may add more work to your move, but the good news is that professional packing services often have speciality options to take care of this.
Protect Your Belongings by Choosing Professional Movers
Stop stressing about packaging all of your belongings, and hire a professional moving service to make your life easier. Firemen Movers is the moving and packing company near you that can take half the burden of moving and handle it with ease. Allow us to help you with your upcoming relocation so you have time to focus on everything else. Contact us today for more information on how we can make your move easier than ever.