5 Tips on Decorating Your Apartment From Local Movers in Toronto
As a renter in an apartment unit, you're likely limited as to how much you can decorate. While some places restrict what you can actually do to decorate your space, some folks may simply not want to spend too much money bettering someone else's property. Regardless of your particular situation and reasons, our local movers in Toronto have the following 5 tips to spruce up your space without spending too much money.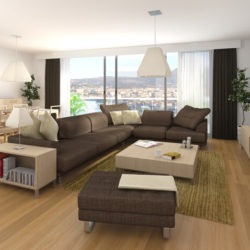 Fill your unit with beautiful artwork.
There are plenty of places to find inexpensive artwork like framed prints, professional photographs, and paintings. Also, it's relatively simple to affix them to the walls yourself – a simple YouTube video will help! However, if you'd rather not leave holes in your walls, sturdy adhesive hangers provide you with a means to hang up your art without damaging anything.
Add new light fixtures to rooms.
Adding new light fixtures is a great way to change the look of a home, so long as you hang onto the original ones and reinstall them before moving out. Light fixtures are an affordable upgrade that really does wonders for a room.
Change up the hardware in the kitchen.
Freshen up the kitchen by swapping the knobs on cupboards and handles on drawers with something new. You can also do this in the bathroom too for a shockingly low-cost makeover. Again, like the light fixtures, hang onto the old hardware and put them back on once you decide to leave the apartment.
Try wall decals as an alternative to painting.
Make to work just like giant stickers, wall decals will certainly make decorating your unit a whole lot easier. Forget about painting your place, then repainting it back to the original color before moving out. Instead, wall decals offer a peel-and-stick option that adheres easily and peels off just as quickly. The best part is they don't leave behind a sticky residue!
Decorate with furniture you love!
Since you're renting an apartment, you're not stuck paying home insurance or saving up for that emergency fund in case something bad happens. So, why not invest in some lovely, unique pieces that will stay with you forever? Choose furniture and décor that's versatile and long-lasting to give your apartment a high-style, elegant appearance.
For Local Movers in Toronto, Call Firemen Movers
Your apartment can look absolutely amazing, you just need to get creative, use your imagination, and come up with ideas to make your apartment your own! Give your local movers in Toronto a call at Firemen Movers for quality services, friendly support, and cost-effective pricing.