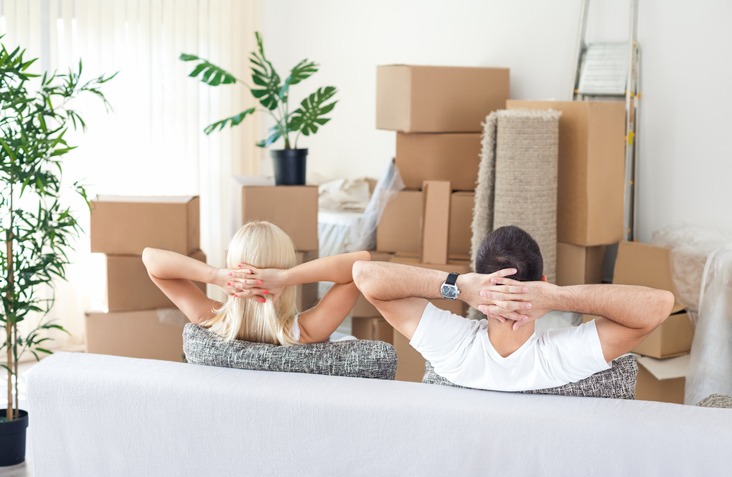 iStock.com/LuckyBusiness
How to Unpack and Stay Organized When Moving to a New House
It's easy to become unorganized in the flurry of moving, especially when it comes to unpacking and settling into your new home. Between the confusion of being in a new home and having people in and out trying to help you, unpacking can be a nightmare. While it's a good idea to do most of your packing on your own so that you have the chance to declutter, hiring an unpacking service to help you complete your relocation can be extremely helpful, and save you from a ton of stress. In addition to looking for unpacking services near you, check out some of the unpacking tips for your new home we've listed below.
Before You Start Give Your New Home a Good Cleaning
The number one unpacking tip to follow is: clean your new home before bringing any boxes in. You'll find that, especially if you're moving into a newly built home, it'll be dusty inside. You'll want to get all of your cleaning out of the way before moving any of your belongings in, so you can clean thoroughly without worrying about boxes or anything else getting in your way.
Establish a Plan
The next step is to establish a solid unpacking plan, that all your helpers are aware of, and will follow. If you choose to depend of friends and family members to help with your unpacking, you'll need to make sure they're coordinated and that you have a plan that'll make sure you all work together—it's easy to get confused and be counter-productive when you enlist your loved ones to help, so going in with a plan will help everyone stay focused.
Sort Your Boxes
When initially moving your boxes from the truck into your new home, immediately take them and place them in their respective rooms—help this process by labelling your boxes as you pack them! You'll find that it's much easier and more functional to unpack boxes in the rooms that their contents belong in, rather then unpacking everything in one central location and then moving them to wherever they belong.
Unpack the Essential Boxes First
Chances are, you won't be able to unpack absolutely everything in one shot. Be strategic and unpack the essential boxes first. This includes rooms like your bedroom, bathroom, and kitchen. Rooms like the living room and den can wait until you have time—the most important areas are the ones that you'll need in order to have a functioning household. Be sure that your movers know which boxes go where, and which they should focus on unpacking first.
Get Professional Help from Firemen Movers
If you're overwhelmed with your upcoming relocation, your best bet would be to hire Firemen Movers to help you with your move. As one of the top professional unpacking services, we offer everything from full-service moving, to providing eco-friendly packing supplies. When you use our house unpacking service, you'll be able to avoid all the hassles of packing and transporting your goods, which will give you more time to focus on your family and new home! Contact us today to find out more about how we can make your move a breeze.