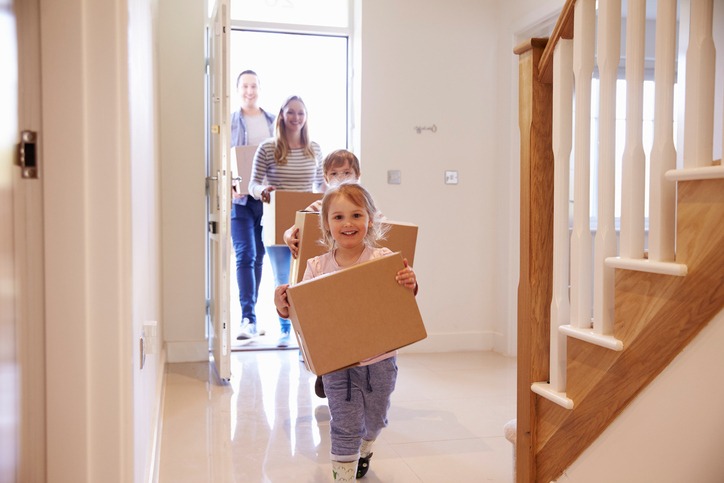 iStock.com/monkeybusinessimages
Ways Kids Can Help During a Move
When your family is preparing for a move, chances are you squeeze in time on your weekends and evenings to pack, while the regular routine continues. With so much going on at once it can be hard to manage your move on your own. But if you are moving with kids, there are extra hands to help. Your kids can be a big part of your moving process, and it works twofold: you get your house ready in time for your moving date and your kids stay busy and entertained. Kids love to help out with grown up chores, so here are some moving tips to help your children get involved.
House Hunting
The first stage of moving is knowing where you want to live. This can be a fun process to get your kids excited for a new home. You can let them look around the model homes and pretend which rooms they would like to have as their own. Allow them to explore and later on, discuss what you both liked and didn't like. Involving them in the process helps them feel like their concerns are met and that the decision to move involves the whole family.
Clean Their Rooms
Even young children can clean up after themselves or help by wiping down surfaces. Encourage your kids to clean up their rooms, organizing their items in three areas: keep, donate, throw away. Aside from getting some of the work done for you, it also works for their benefit in helping them learn how to make responsible, thoughtful decisions.
Pack Their Own Items
Encouraging your children to organize their items is a great way to get them involved in the moving process. Aside from allowing them to decide which items they want to throw away, donate, and keep, you can encourage them to carefully pack their belongings in boxes. Show them how to pad the boxes to protect fragile items, and help them tape the boxes shut and label them.
Prepare Their Essentials
As the days draw nearer to the moving day, keep in mind that each family member should keep a box of essentials handy; items that they would need right before and right after the move.
Label and Decorate Boxes
Another fun responsibility you can give your kids is creating the labels for your boxes. Give them a list of all the boxes you want labelled and have them create fun labels for each of them. Help them tape the labels to the boxes (all sides) and allow them to put stickers and draw pictures on the boxes to help you remember their contents.
Firemen Movers' Services Can Help You Move
Moving and packing can be a family affair, and getting your kids involved will help them adjust to the change in a more positive way. If you're ready to get your boxes into your new home, our professional team of movers can help! At Firemen Movers, we provide fast, efficient, stress-free moving services to homeowners in the GTA. Our services range from packing and moving to junk removal and more. We think about the small details and are fully available to support you. Contact us today for more information or to get a quote on our services.